Ever paused to enjoy the sweet sound of classical music floating around the Flour Mill? If you don't know them already, you can thank your Little B.I.G. Hosts, Suzanne and Val, for their ongoing dedication to Friday Night Fiddles – a weekly concert from local musicians that has been running since the start of the pandemic.
Friday Night Fiddles is held in the Little B.I.G. House each week from 5 – 5.30pm.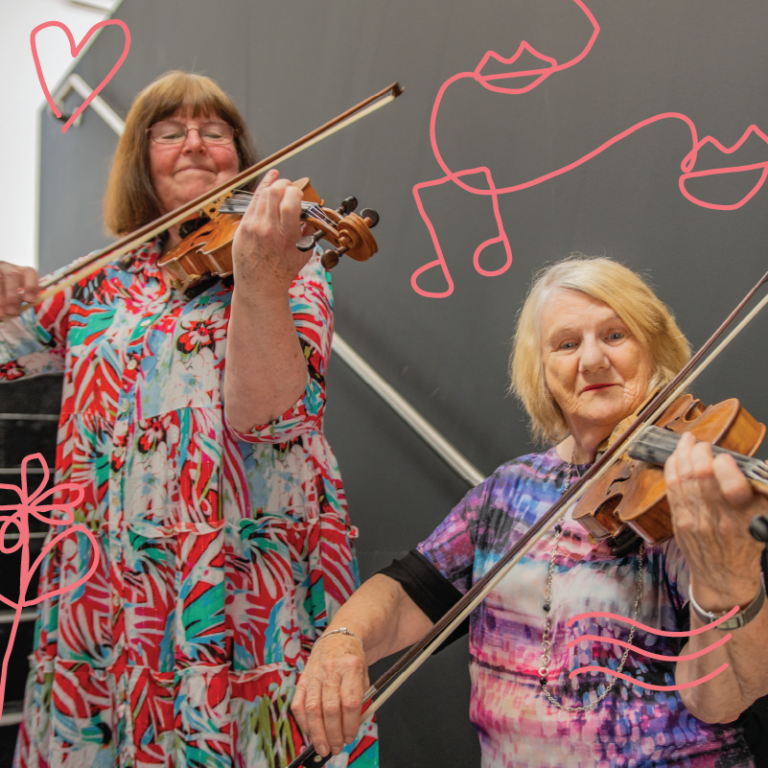 Suzanne has lived in Durum Silos for two years, previously living on Sydney's Northern Beaches. Her neighbour Val, who had been a resident at the Flour Mill previously, moved in just four months later. Both ladies say that the Flour Mill has provided a real sense of community for them as well as others.
Suzanne and Val have both been musicians all their lives and love to share with the community the wonderful benefits music can bring. They began running their concerts during the first outbreak of Covid-19 back in early 2020 when everyone was starved of live performances.
"We love to share with the community the wonderful benefits music can bring", said Suzanne.
The pair played from various balconies in the Durum Silos week after week, and not long after were offered a space to perform in the Mungo Scott Building. Since then, they have played violin duets nearly every Friday. On the last Friday of the month, they have been able to invite many more performers and a larger audience to the performance space in Mungo Scott Building.
They now have a community of singers, instrumentalists – and even a bagpiper! – who share their common passion for music with an appreciative and loyal audience. Many of the musicians live in the Flour Mill themselves, which shows the breadth of talent found in our own environment.
All Val and Suzanne's concerts are free of charge. The musicians play and sing with the purpose of providing the community with live performances (something we've been sorely missing!) and because they have a deep devotion to music and the arts.
Friday Night Fiddles by Val & Suzanne

Time: 5 – 5.30pm (first three Fridays of the month)

Place: The Little B.I.G. House (at the Flour Mill of Summer Hill)

Enquiries: scattell@optusnet.com.au
You've just met two of our Little B.I.G. Hosts, Suzanne and Val!
What is a Little B.I.G. Host, you ask? If you have an idea for an activity, event or community group that's good for the 'hood and brings people together at the Summer Hill Little B.I.G. House, then you too could become a Little B.I.G. Host.
Share your ideas with us by filling out the contact form on our website.