Meet Alan Earls: local Summer Hill community member and Little BIG Host.
Alan runs a non-clinical Pop-up Safe Space at the Little BIG House on Friday and Saturday evenings. The Safe Space is a warm, welcoming environment open to anyone struggling with chronic loneliness or suicidality – or anyone who is feeling unsafe or in need of peer support. It is also a space for carers friends or colleagues to come and seek help.
Designed and led by Sydney's Inner West community, the Safe Space is a 'drop-in' style where you can reset with guidance from peer support with lived experiences.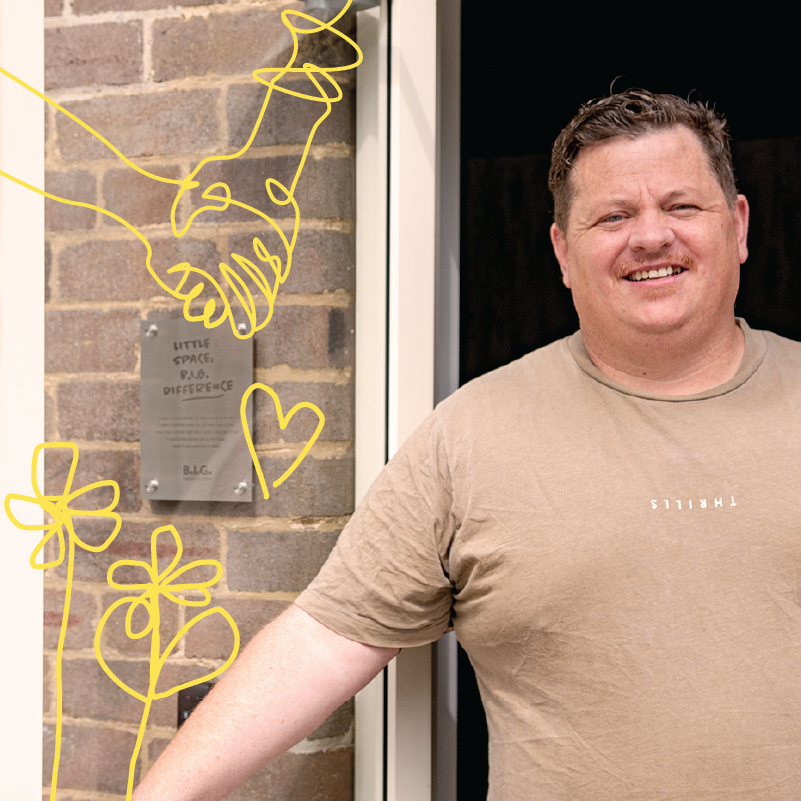 We asked Alan to tell us a bit more about the Safe Space and his experience as a Summer Hill local:
1. I've been a Summer Hill local since
May 2020
2. This community is special to me because
I don't feel anonymous walking around. It has a country feel to it, very personable.
3. My favourite thing about the Little B.I.G. House is
The idea and the delivery of a space for the community that is inclusive and open for all.
4. The event / program I'm running in the Little BIG House is
It's a Pop-up Safe Space for anyone struggling with suicidal ideation, thoughts, behaviour, chronic loneliness or feeling unsafe.
5. I hope this event / program will make participants feel
Less stigmatized around mental health in the community and see it as a holistic alternative to the emergency room. We want to help with safety planning and our biggest endorsement would be, if we were part of their safety plan.
6. The top thing on my bucket list is
Get a community grant so we can improve the service and train volunteers.
7. I'm most grateful for
The people that stood by me while I was going through my own mental distress.
8. The last Little BIG thing / action I did for someone else or received from someone was
My work colleagues surprised me with a cake and a present from T2 recently and we went out to celebrate. It was really touching as I normally keep that stuff quiet.
If you feel vulnerable or in need of a chat, why not join Alan and other caring, supportive members of the community? The Pop-up Safe Space is open on Friday and Saturday evenings from 5:30pm – 9:00pm. For more information, please enquire via the details below:

1300 411 461

enquiries@rosesintheocean.com.au

www.rosesintheocean.com.au
You've just met one of our Little B.I.G. Hosts, Alan!
What is a Little BIG Host, you ask? If you have an idea for an activity, event or community group that's good for the 'hood and brings people together at the Summer Hill Little B.I.G. House, then you too could become a Little B.I.G. Host.  
Share your ideas with us by filling out the contact form on our website: www.littlebigfoundation.org/#contact